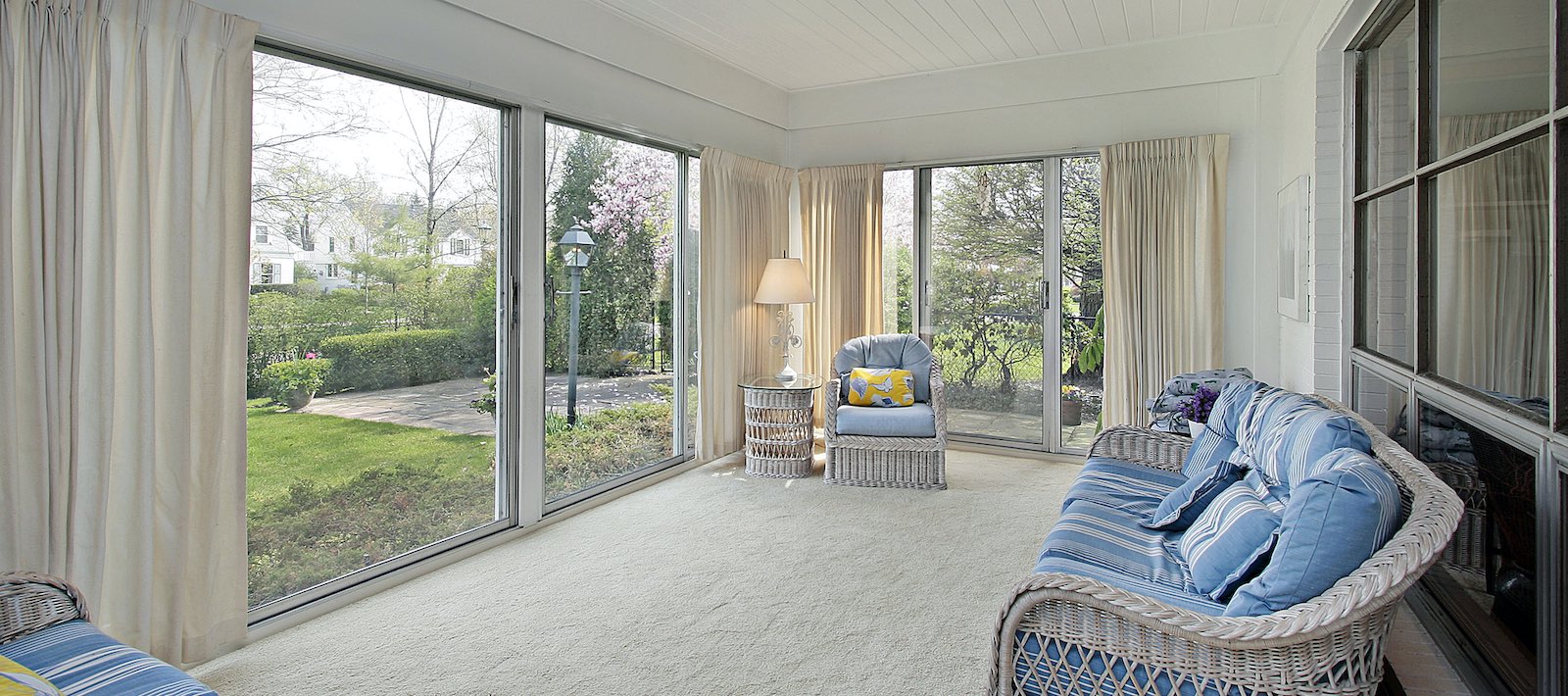 Recreational spaces in homes can come under many different names and are usually intended for specific purposes. For example, a lounge is a comfortable space with soft furnishings, typically used for relaxing and casual socializing. A dining room is a more formal area reserved specifically for eating around the table.
There are, however, several other types of rooms that you can have in your home. These tend to be less common and more obscure. But, that's not to say you shouldn't have one in your home.  Climate and weather may play a big part in the type of room you are considering adding – if you're in San Diego, for instance, you get plenty of sun and not much rain, so you can plan accordingly.
If you're looking for something a bit different from your standard lounge, one of these may be for you. So what are sun, morning, sitting, and mudrooms? And do you need one in your home? Read on to find out.
The Sun Room
Ever wanted to have that garden vibe from the comfort of your sofa? The sunroom may be precisely what you need.
Sunrooms are designed so you can have a panoramic view of the outdoors. They're typically attached to the side or back of an existing house and consist of brick or wooden bases that support large glass panels. The roof can be of standard material or also glass. Most sunrooms feature large sliding doors, allowing the room to be open during fair weather.
Sunrooms live up to their name because they let in large amounts of light. They're a space where you can enjoy the great outdoors without putting up with common annoyances, such as bugs and allergies.
Advantages of a sunroom:
Can be added to an existing structure.

Lets in lots of natural light.

Creates a comfortable, relaxing space.
Disadvantages of a sunroom:
The glass needs frequent cleaning and maintenance

The room can get uncomfortably hot during the warmest months, especially if you're out towards Escondido, El Cajon or other inland communities in greater San Diego.
Get a sunroom if:
The rest of your home doesn't get enough natural light.

You find sitting in the garden uncomfortable.
The Morning Room
Harking back to the Victorian era, the morning room was a space where the lady of the house would prepare herself for the day ahead. Today, it's nearly always a fancy term for a lounge, although seldom-used as it's considered outdated. Morning rooms had big windows to let in plenty of morning light and comfortable seating, possibly including a desk. 
Advantages of a morning room:
A calm space to gather one's thoughts.

A bright, sunny area. 
Disadvantages of a morning room:
Probably unachievable unless you live in a large house.
Get a morning room if:
You have plenty of space in your existing house.

You want a calm space without a TV, music, or other distractions.
The Sitting Room
Ultimately, the sitting room is another way of saying "living room" or "lounge." The clue is in the name – it's a space primarily used for sitting and relaxing. The slight difference between the sitting room and living room is that the living room tends to be more multi-purpose. For example, a living room may feature a workspace or dining table. On the other hand, the sitting room is primarily for sitting inside and relaxing.
Nearly all homes already have a room or space dedicated to sitting, – an area with a big comfortable sofa or chairs typically facing the TV or an open fire. Sitting rooms are where you gather with family and friends to have some downtime, talk, or watch a movie. 
Advantages of a sitting room:
A cozy space for entertaining family and friends.

Almost all kinds of homes will already have a room for this purpose.
Disadvantages of a sitting room:
Most people tend to use their rooms in various ways. Dedicating a space to sitting can be restrictive.
Get a sitting room if:
You have more than one recreational space in your house.
The Mud Room
This is easily the most curious-sounding room on the list. Its purpose, however, is somewhat more mundane. The mudroom is an area where you can remove dirty or muddy outdoor gear and shoes. For this reason, the mudroom is usually located at the main entryway. It consists of a closet to put coats and outdoor apparel in and something to tidy footwear away. You'll also find a mat for wiping feet as well as hard flooring such as laminate, which is easy to clean. 
Even though it is called the "mudroom," it's not always an entire room. Many homes feature a dedicated space next to the entryway that is set up as a mudroom. Larger homes, however, may well have a whole room especially for this purpose.
Advantages of a mudroom:
It helps keep the house clean and free of outside dirt.

It can provide a space to store outdoor items to avoid clutter in the house.
Disadvantages of a mudroom:
They require frequent cleaning.

If left untidy, they can give a bad first impression of your home – it's usually the first thing people see.
Get a mudroom if:
You love spending time outdoors. 

You want to tidy away outdoor items and keep the house cleaner.

You live in a rural area where you may be tracking in a lot of mud and dirt.
Some of these rooms are more popular than others. And you probably have one of these rooms in your home already. If not, then these are some options to consider if you're planning to remodel soon. 
Consider your lifestyle and how you want your home to help with that. By choosing your rooms carefully, you maximize your comfort and quality of life. By considering how you live and how you would like to use your home, you can develop an ideal unique space. If you're ready to achieve the home of your dreams, it's time to research and start planning your brand new space.  We're in San Diego – contact us today!