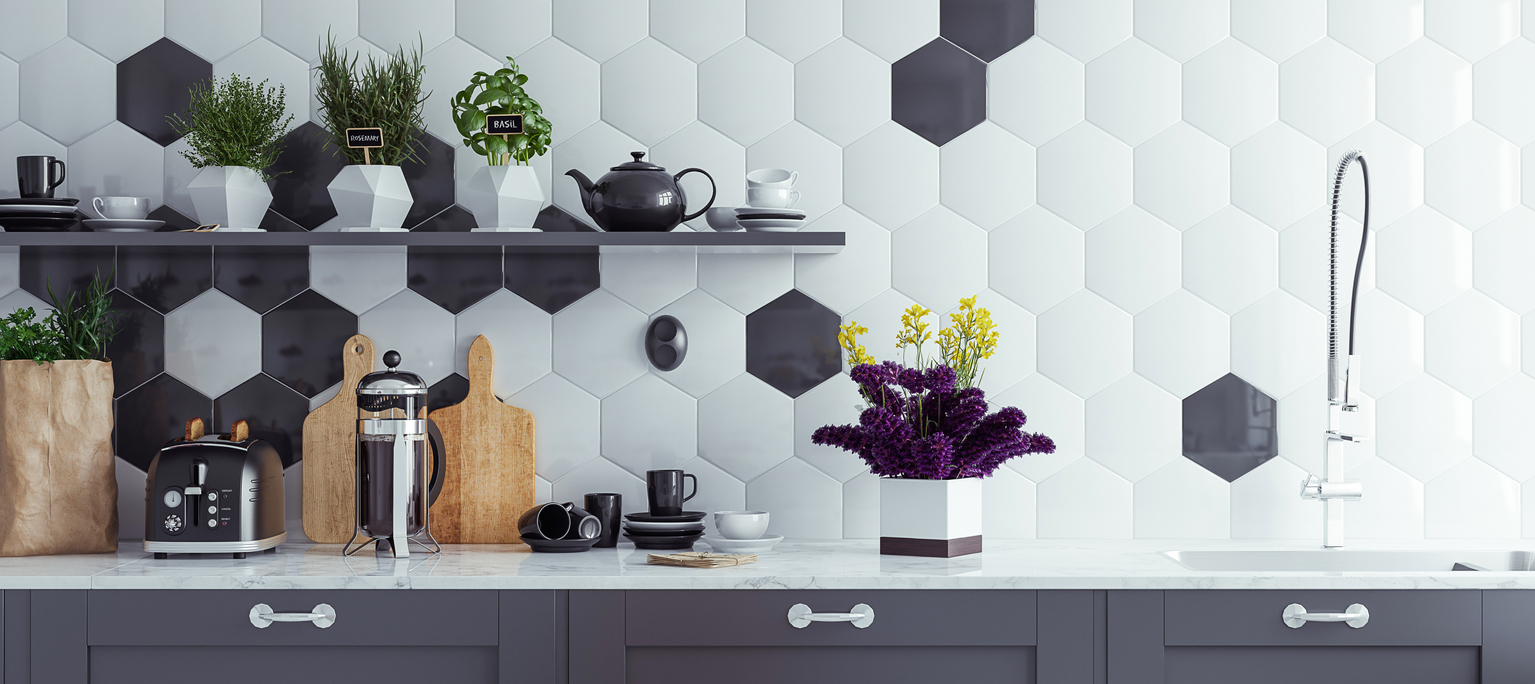 A kitchen backsplash can be a focal point of your space, with countless design options. While backsplashes are often one of the final kitchen design features one might choose, we think they deserve just as much consideration as cabinetry and counters. Check out our tips to find inspiration for your kitchen backsplash. 
Kitchen Backsplash Sizing and Layout
We can design your kitchen backsplash to take up as much space as you would like. Some homeowners opt to keep the backsplash as a design feature behind the range. Others extend the kitchen backsplash between the countertops and cabinets or across an entire wall. 
One kitchen backsplash idea we like is extending the tile sky high. Instead of keeping the tile for function only behind a sink or range, go for drama and visual appeal. We will extend the tile up to the ceiling with this design, making the tile a key part of your kitchen's aesthetic.
Options for Kitchen Backsplashes Other than Tile
While your mind may immediately go to tile as a kitchen backsplash material, many options can give a less traditional look. Some homeowners choose a very sleek, shiny glass backsplash, creating a very modern highlight in their kitchen. Others put the glass over bright paint or fabric for an eye-catching design.
Another modern, sleek material choice is stainless steel. This is also very functional, like those you might find in commercial kitchens. Other metal materials like copper add a rustic appeal to your backsplash and your entire kitchen.
Large marble slabs are an upscale backsplash material. They are particularly pleasing when paired with marble countertops, creating a seamless look between surfaces. A similar effect is possible with quartz.
Wood is an alternative backsplash material that adds a lot of character to a kitchen, whether it is a small section or an entire wall. Bamboo is particularly popular, as it is a sustainable resource. For those who like the look of wood but do not want the expense, faux wood tiles can replicate real wood's texture and aesthetics.
Tile Selection, Color, and Design
If you are considering a classic tile backsplash, you'll find many options to make your backsplash your own. There are many tile materials to choose from, including glass, ceramic, porcelain, marble, granite, or metal. Like the faux wood tiles previously mentioned, less expensive materials can be printed and designed to resemble more upscale finishes. The real deal, of course, will be more luxurious.
For a minimalist look, a design with monochromatic, rectangular, or square tiles will never go out of style. Subway tiles are always popular, with their simple efficiency. Diagonal cut tiles offer a unique look and laser-cut tiles with intricate designs are showstoppers.
Other unique options include hand-painted tiles, mosaics, and herringbone layouts. Of course, tiles come in countless colors and finishes, from bright shades to shiny metallics. Any of these tiles can be laid out in numerous configurations depending on your budget and desired look. 
A simple grid pattern of square tiles can be uniform and linear with single-color tiles. The same tiles can become a mix of clean lines and bright pops of color with a handful of tiles in an accent shade. The same layout becomes a slightly retro look if the homeowner chooses a checkerboard pattern, a classic variation on the grid. For larger-scale layouts, a non-repeating pattern can add visual interest between the countertops and cabinets or ceiling. 
The color of your grout is another design decision that can completely change your kitchen backsplash's look. Many people choose a grout that blends in with the tiles, but a contrasting color is an option for those who want a more daring look. Dark tile with light grout, or vice versa, is a fun way to spin a classic design. 
Making Sure Your Backsplash Fits Your Kitchen
With so many options for kitchen backsplashes and so many great ideas, how can you narrow the choices to one that suits your needs? 
The size, layout, and materials you select should fit your kitchen's color scheme and its design theme, from contemporary to eclectic or beyond. Often, a kitchen backsplash depends on the countertops to anchor the style. Countertops are one of the other large design features of a kitchen, so your backsplash should harmonize with the counters' color and materials. Whether you choose to perfectly match the counters for a seamless look, or reflect similar colors or materials, this is a critical design decision.
If you want to add color, texture, or contrast, the space above the stove is usually a great place to do it. Choose tile that fits in with the kitchen's overall feel, but consider a different layout, a brighter shade in the color palette, or something shiny. When paired with a more neutral look, this can have a great visual impact. 
You will also want to consider the wear and tear on your preferred tile and ease of cleaning. It should hold up to heavy usage in a kitchen. And it's wise to ensure it is sealed to avoid staining or scratches. 
Getting Help With Your Kitchen Backsplash Design
Milan Design and Build is skilled at bringing your design dreams to life. We align our construction and design expertise with your vision. Whatever kitchen backsplash design appeals to you most, our team is ready to tailor it to your space. If you're not sure how you want your kitchen backsplash to look, we're happy to consult and develop a design that suits your needs.
Check out our design portfolio for some examples of our previous work for inspiration. Schedule a visit, on-site or virtual, to speak with a project design consultant. Or, contact us to discuss your project using our online form or by calling us at 858-254-3084. We look forward to working with you!