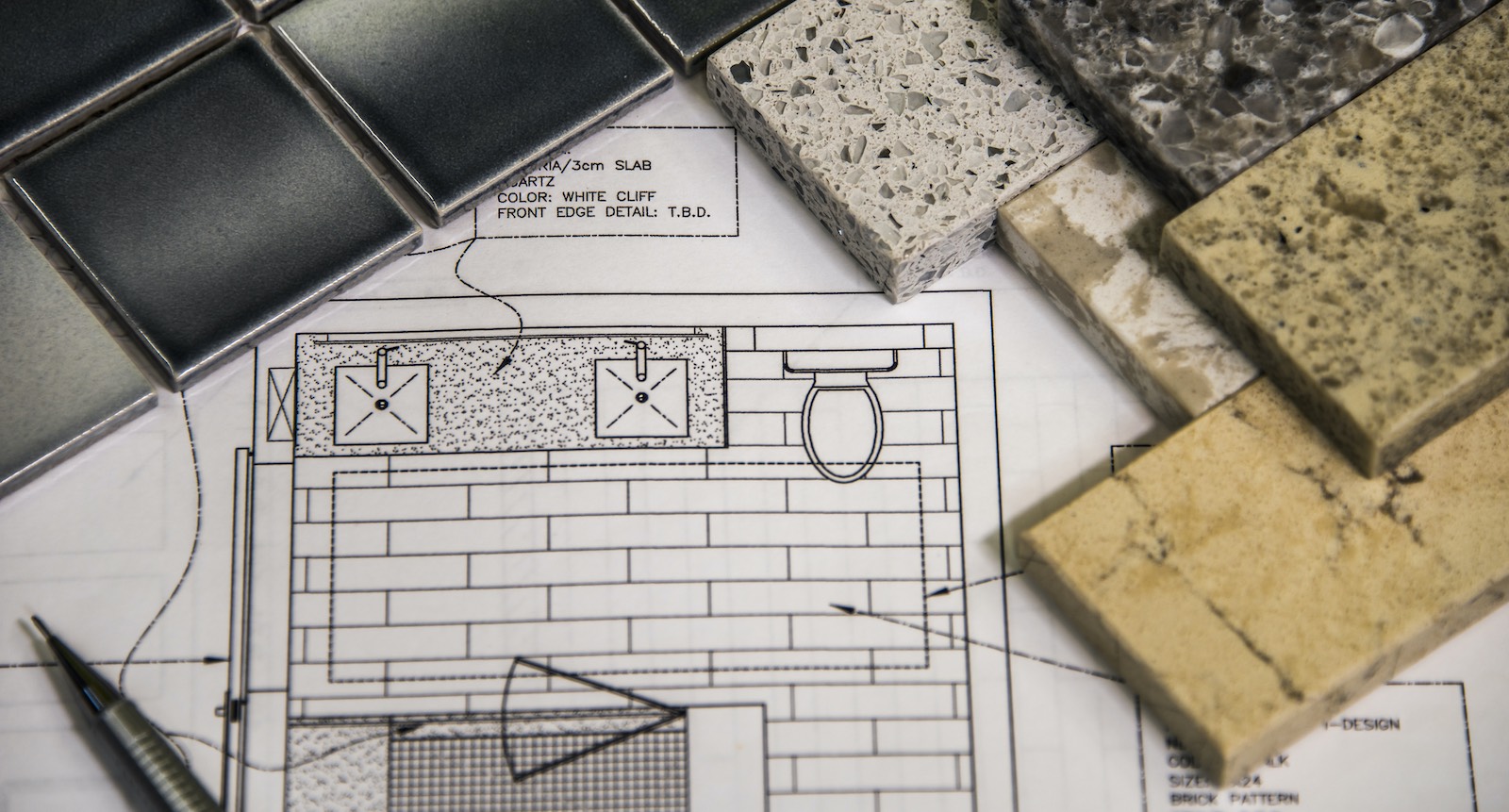 Remodeling a home is an exciting but complex project. You must complete each step accurately. The margin for error is high. And the consequences of getting a measurement or other aspect wrong can be disastrous.
Developing home blueprints is an essential component of the planning stage. They help you visualize your idea and are vital for understanding the technical details, precise measurements, and how everything fits together. Without blueprints, you're pretty much building blind.
There's much to understand about blueprints. Before starting yours, read our full blueprint guide.
What Are the Main Phases of a Home Remodel Project?
It is widely accepted that a home remodel project has five main stages. Although there are many sub-stages and steps to follow, you can generally categorize them into the following:
Planning
Budgeting
Demolition
Construction
Post Construction
During Which Phase Do I Develop Blueprints?
You must create your house blueprints during the planning stages of your project. You likely have some idea of what you want before you begin, so the first step is to get it down on paper.
The best way to get started is by simply sketching out your design on paper. Then, play around with your ideas and the space until you have it exactly how you want it. Once you have the rough designs, you can move on to making official house blueprints.
Can I Just Modify Existing House Blueprints?
You can't modify existing blueprints, at least not the official documents. You can take a copy of your blueprints for your home and use them to create a new one. The advantage here is that the existing blueprints will already have all the measurements and other aspects in place.
As a side note, suppose you want the blueprints for your house but don't have them. You can head to your local public official or records office. They will likely have a copy available.
What Is the First Step in Preparing New Blueprints?
Your initial sketches are the first step in any blueprint preparation. As mentioned before, this is your chance to play around with layouts and try new ideas before you place the final design into an official format.
At this stage, you also need to take the necessary measurements. Include areas you want to build out onto or redesign. Take the walls' widths and heights. Measure windows and openings and other areas, such as nooks and built-in storage. Don't forget to calculate the square footage.
While creating your sketches, don't forget to include bird's eye and side views of the project and any openings you wish to add, such as windows and doorways.
At this stage, incorporate plumbing and electrical considerations. For example, if you're remodeling an area with water outlets, such as a kitchen or bathroom, think about how practical it will be to move these.
What Should Be Included in Initial Photos/Sketches?
Following on from your initial sketches, you now need to develop the first draft of your blueprints. This includes drawing everything to scale and marking features correctly. If you plan to add built-in storage or units, these should be included to scale.
When adding doors and windows, include the opening direction and clearance to know you have enough space to accommodate them.
How Do I Determine the Cost of Blueprints?
While you may have developed a comprehensive project plan, you still need to get official blueprints developed. This is because you won't get the necessary building permits or approval unless you can present professionally designed blueprints.
The cost of making blueprints can differ depending on who designs them and how they charge. However, to get an idea, here are some ballpark figures:
Charge per square foot: $0.40 to $3
Drafting charges by the hour: $50 to $130 (typical projects range from 10 – 13 hours to complete)
Flat rate: $1,750 +
Entire new build: $2,000 to $20,000
Alterations to existing blueprints: $400 to $2,000
Do I Need to Hire a Blueprint Designer?
Yes, absolutely; you do need to hire a blueprint designer. Construction and remodeling are highly expensive projects and disastrous if you get even a single measurement wrong. Aside from that, here are more reasons to have official blueprints of homes:
Most town planning offices won't accept or approve your remodeling project unless you have official blueprints.
You won't get the required permits without official home blueprints.
A professional designer will spot errors and work with you to find a solution.
A professional will know limitations and restrictions that apply in your area and ensure your plans don't violate any requirements.
Your blueprint drafter can make worthwhile improvements and recommendations.
Do I Need to Make a 3D Model of My Vision?
You personally don't need to create a 3D model of your project; however, when you employ the services of an architect or drafter, they will almost certainly use CAD (computer-aided design) software to create a 3D image of your design.
Doing so is advantageous as it allows you to see your vision in "reality" and gives you more of an impression about whether or not the space will work for you.
If you want to understand more about this type of software, simply head over to IKEA's website and take a look at their 3D kitchen planner. Aside from being fun to use, it's a good way to get to grips with planning a space.
How to Determine the Purpose of My Home
If you're reading this article, you've likely already decided that you're going to remodel your home. But have you really thought about the purpose of the new space?
Many people forge ahead with a home extension or expansion without really considering what they plan to use that space for. The result can be rooms that aren't fit for purpose.
Before starting on your blueprint home remodel project, take plenty of time to think about its purpose. For example, if you want a home office, consider what you want inside the room and what you need to do to make it fit. A large desk will be great, but not so much if you haven't made the room large enough to accommodate it. It may sound like a silly mistake, but there are so many variables in a remodeling or construction project that professional help is invaluable to avoid such oversights.
What Are the Benefits of Working With a Professional Contractor?
Unless you're a qualified builder, it's always worth hiring a professional contractor. No matter how good you consider yourself to be at wielding a hammer, here's why you need a professional:
They will have the necessary qualifications and experience to do the job properly
They will carry the proper insurance to protect you and your home
Your contractor will have access to other reliable sub-contractors
Your project will be built up to standard and code
The finished result will be high-quality and safe
Most reliable contractors will provide a warranty for their work in case anything happens following completion
What Is a Design-Build Contractor?
A design contractor is a great all-in-one solution for a remodeling project. Essentially, they take care of all aspects of the project right from the design stage all the way through the construction stage to completion.
They provide the blueprints for houses, the construction contractors, and everything in between, all under one contract. This is especially advantageous as you only have one point of contact to deal with. And you're not trying to juggle multiple contracts and work everything into the timeline.
Will They Research Codes, Ordinances, and Regulations?
If you choose a locally based design-build contractor, they will know the codes and regulations in your area. However, since the project is in your name, it is down to you to check whether or not the work complies with regulations and is permitted.
Once you have the blueprints drawn up, take them to your local planning authority. They will be able to fill you in on all codes and regulations. More importantly, they'll tell you what you need to be doing to adhere to them.
What Are Common Mistakes in Developing Blueprints?
The single biggest mistake in blueprint development is getting the scale wrong and miscalculating measurements. We cannot stress how important it is to have these aspects checked and triple-checked. You'd be amazed at the devastation a misplaced comma or decimal point can cause.
Common errors include:
Not providing enough clearance space for doors and windows to open
Failing to include sufficient windows for the new space resulting in too little light
Failing to measure furniture and other objects and ensuring they properly fit inside the new space
Inadequate or inconveniently placed power outlets and light switches
How to Choose the Right Contractor for Your Project
Any contractor needs to be someone you feel comfortable with and trust. When you talk to potential contractors, get a feel for their manner, attitude, and approach to the job. If anything feels "off" and makes you uncomfortable, they're not the one for you.
Secondly, a good contractor will happily produce examples of their work and client testimonials. They will also have good reviews in multiple places online (not just on their website). A good tip is to look for a contractor that has carried out multiple projects similar to yours.
Finally, don't hire any contractor that doesn't provide a warranty for their work. A warranty safeguards you against errors. All responsible contractors will provide one. If a warranty isn't offered, you should be suspicious and move on.
What to Expect When Working With a Contractor
A contractor will work closely with you to determine the timeline and actions of the project. Through the planning stages, they will help you create the blueprints for the house and ensure they're error-free.
The contractor will typically book and organize all the necessary sub-contractors (electricians, plumbers, etc.) and oversee their work.
Then, during the construction phase, the contractor will provide regular updates as the work progresses. It's also their job to notify you about any issues that arise and work with you to reach a solution. They are also responsible for ensuring everything stays on track and progresses.
Once the project is finished, you will inspect the work with your contractor, and they'll make any adjustments if required.
Will They Help Build a Schedule for My Home Remodel?
Yes absolutely. Since they will be arranging all the sub-contractors as well as overseeing the entire project, they will be able to give realistic timelines for how the project progresses.
Of course, unforeseen delays can always crop up, but it's down to your contractor to manage these and find solutions.
How Will a Contractor Work With Me on Development Blueprints?
For the blueprints of houses, a contractor will typically have an architect or drafter on board to assist clients in the development of official plans. This is especially true for a design-build contractor.
If you pick a contractor that doesn't deal with the blueprint design, it's likely they will be able to recommend the right person for the job.
How to Find the Right Contractor
Word of mouth and recommendation is one of the best ways to find a good contractor. Otherwise, you can perform a google search of "design-build contractors near me," and a list will pop up. Do some online research first – check out their website, reviews, etc. Then if all looks good, contact them for a chat.
Ultimately, blueprints are a complex part of a home remodel, so leave it up to the professionals to deal with. That way, you know your project will be expertly designed as well as comply with all regulations and codes.