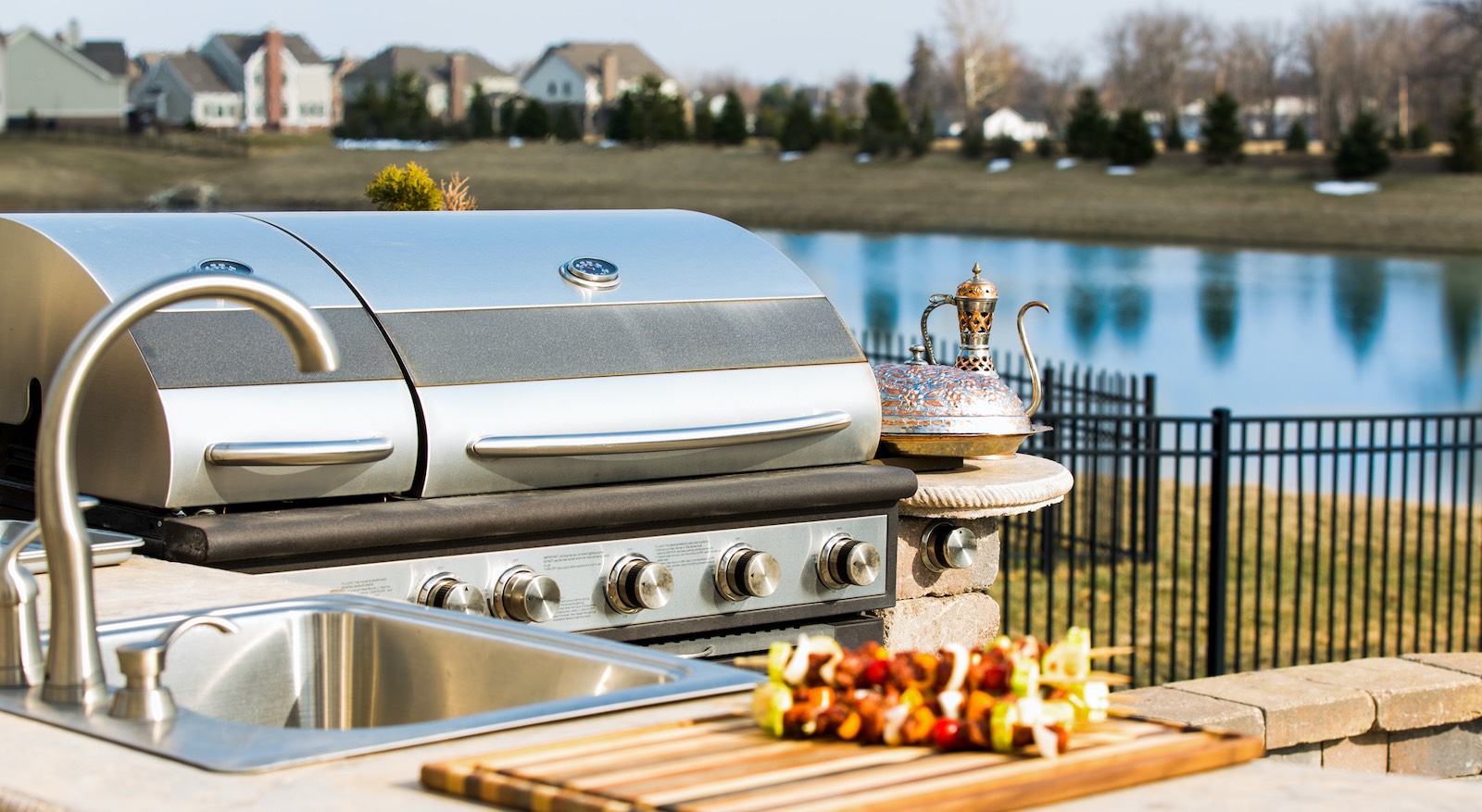 Home kitchens can often be small and cramped, affecting your enjoyment of using them. Unfortunately, it's not always possible to remodel in a way that creates more space. After all, you can't create space if you don't have it to begin with.
A great solution is to extend your kitchen outside. Indeed, outdoor kitchens have become wildly popular in recent years. However, are they practical for the San Diego area? Let's find out.
What Is an Indoor Outdoor Kitchen?
An indoor/outdoor kitchen is a way of increasing the footprint of your entire kitchen by extending it outside. Typically you will keep some of your kitchen elements inside but add appliances and storage to your outside space too.
Most outdoor portions of kitchens have some kind of roof or covering to protect them from the elements. Both kitchen areas will be connected via a doorway to make access easy.
Why Have an Outdoor Kitchen in San Diego?
San Diego's relatively dry and mild climate makes it an ideal area to install an outdoor kitchen. You won't have to deal with bad weather too often, so you'll be able to make use of your outdoor kitchen for the best part of the year.
Plus, outdoor kitchens look absolutely stunning and provide a great focal point for your home and an inviting space for friends and family to gather. Add a pool, comfortable seating area, and maybe a spa into the mix, and you've got the perfect space to hang out.
What Should You Consider Before Installing an Indoor/Outdoor Kitchen?
Before you rush off to the nearest hardware store, there are some essential points to consider first:
Is your outdoor space suitable for an outdoor kitchen?
Is the area large enough, and will you be able to install a proper covering to protect it?
What about electrical and water supply?
Can you plumb in a sink and faucet outside?
Can you power anything, or can you only have gas bottle/charcoal-powered cooking facilities?
How close are your neighbors?
Will they be negatively affected by your outdoor kitchen (smells, noise, etc.)
How secure is your yard? Outdoor kitchens have a lot of expensive equipment that is very appealing to thieves.
What Should You Do With Your Indoor Kitchen?
While it's easy to get carried away with designing your outdoor cooking space, don't forget to work on the inside elements too.
While it's true that you can use your outdoor kitchen for most of the year, what about the days when the weather is particularly bad? Your inside kitchen still needs to function properly when you can't get outside.
Keep the essential appliances inside (oven, fridge/freezer, hob, etc.), but consider scaling back on the storage space inside. This is an excellent idea if you want to increase the living space within your home.
Do you need that large breakfast island when you eat outside most days? Will a folding table work instead?
What Are the Downsides of an Outdoor Kitchen?
Being outside brings its own problems. However, these can be effectively dealt with if you plan ahead.
Firstly, insects. These are a pain anywhere, but an outdoor kitchen will attract them over in no time. You'll need protective coverings for your food as well as deterrents for keeping the bugs at bay.
We've already mentioned security. It would be beneficial to add security cameras and an alarm to the area to keep it safe.
Of course, the weather can disrupt your kitchen and cause damage. Suitable, weather-proof cabinets will work best with enough storage space available to pack everything away when not in use. You must also have an adequate covering/canopy to keep the rain off and prevent appliance corrosion.
What Should You Install in an Outdoor Kitchen?
A BBQ grill is often the first thing people think of when picturing outdoor kitchens, but there are loads of other things to consider too. Outdoor kitchens can also feature:
A secondary heating option such as a pizza oven
Fans to keep cool and disperse the smoke
A lockable fridge/freezer
A lockable pantry
Adequate work plan and surfaces
Lighting
A sink unit with running water
A dining set
Adequate floor drainage
What Are the Laws Surrounding an Outdoor Kitchen Installation in San Diego?
Keep in mind that each year California suffers from terrible wildfires. Therefore, the rules surrounding outdoor grilling are strict.
While you don't require a permit to create an outdoor kitchen, you will need one if you plan to install any gas pipework or plumbing. Check with your local authorities on how to apply for one.
You cannot install open flame appliances anywhere considered combustible. This means balconies, wooden decks, and other similar types of structures are off-limits.
You also need at least 10 feet of clearance between the grill and combustible materials and constructions. This is important to know for choosing the material to construct the covering for your outdoor kitchen. Don't opt for wood or vinyl – you'll be breaking the law.
Build With Safety In Mind
Open flame grilling increases the likelihood of fires breaking out, so always create your outdoor kitchen with safety at the front of your mind.
If possible, install a sprinkler system above your grill. If that's not feasible, have enough fire extinguishers to hand.
Install fire-proof materials around the gill area and consider adding a gate or way to block off the cooking area so kids and animals can't enter. You want to enjoy your outdoor kitchen, so mitigating as many risks as possible will ensure this.
Conclusion
We think outdoor kitchens are a fabulous way to extend your cooking zone and combine the outdoors with your home's interior. There's no better way to welcome family and friends than with some fantastic grilled food and a cozy outdoor setting.