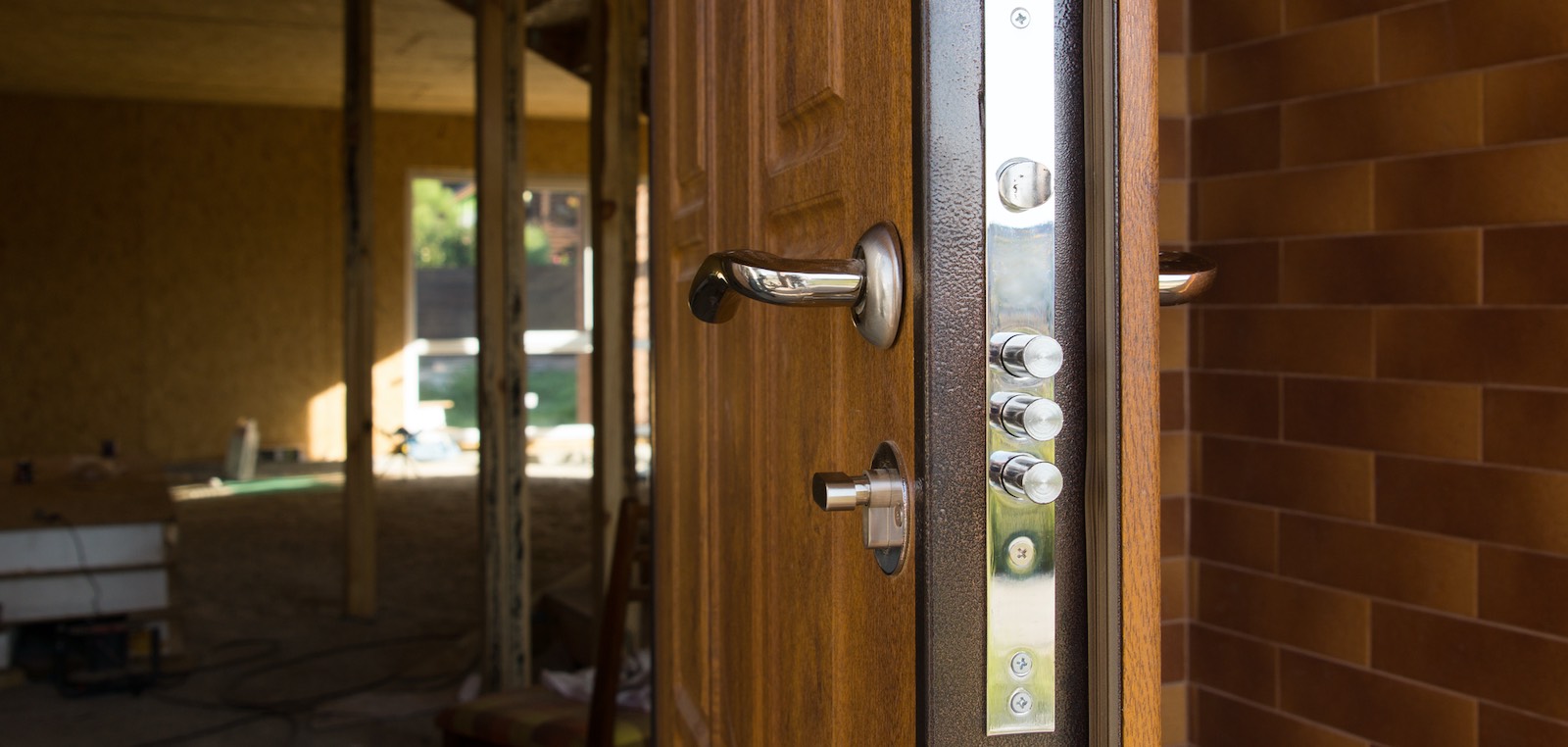 Front doors are very rarely thought about, yet they're generally the first thing that people see when they arrive at your house. The appearance of your front door can really improve or worsen the overall aesthetic of your home and can make the difference whether or not a person feels welcomed when they enter.
Additionally, front doors are the barrier between you and the outside world. It's imperative that your door provides the necessary security to feel safe and secure.
Is your front door serving you well? Or are you starting to think it may be time to replace your front door? If so, then we have carefully compiled everything you need to know about getting a new front door installation, and if you're located in or around San Diego, we'd love to talk to you about your project.
What Constitutes the Front Door of a Home?
The front door of a home is generally the main door that faces the front yard, the driveway, or the street. It is the main entryway from outside into your home. If someone crosses the threshold onto your property and follows the path to your house, then the front door is generally the first thing they happen upon.
Front doors are where the doorbell or knocker is installed so a visitor can alert you of their presence. A front door may also have a slot for delivering mail and may be framed by a porch or other type of covered area.
What is the Purpose of a Front Door?
Everyone requires an access point to their property, and this is usually via a front door.  A front door signals to visitors that this is where they should go to announce their presence. It is the main thoroughfare into your home and provides a welcoming area for guests. Additionally, while it is an entryway, it also provides a secure barrier to prevent intruders from illegally entering your property.  So it serves a number of key purposes that you can factor in if you're installing a new front door.
Why Should You Replace Your Front Door?
Like anything, over time, your front door will start to deteriorate. Wooden doors may warp or suffer from damage and rot. PVC doors can fade and crack if they are old. Other types of doors can suffer similar damage. The result is a door that is vulnerable to break-ins and is extremely unappealing to look at. To protect your home and keep it looking good, a new entry door installation is necessary.
How Important is Curb Appeal?
Curb appeal is important if you're planning to sell your home anytime soon. The term "curb appeal" refers to the first impression a would-be buyer has of the property. A home that looks good on the exterior is obviously going to be much more appealing than a home that is in visible disrepair.
Details like your front door all contribute to the overall amount of curb appeal that your home may have. If your front door is past its best, then investing in a new door installation will raise your curb appeal and make your home more attractive to buyers.
Can a New Front Door Improve Durability?
If you need a new front door installed, it's vital to consider the material from which it's made. Some materials are a lot more durable than others, so selecting the right one can absolutely improve the durability of your entryway.
The most common types of materials for front doors are as follows:
Wood: Although very attractive, over time, wood can warp, sag, rot, and peel, thus making it less durable than other materials

Steel: Extremely tough and therefore very durable. However, steel can suffer from rust and dents if not properly maintained.

Fiberglass: Extremely tough and durable, which makes it one of the most expensive options.

PVC/Vinyl: Efficient and low cost but easily damaged and therefore not so durable
Can a Front Door Improve Security of Your Home?
Entry points to the home such as doors and windows are considered the easiest ways to break into a property. An intruder is likely to try your front door to see if they can easily break in before attempting other areas. After all, it's less suspicious if someone enters through the front door than if they break a window.
Front doors can come with many different security features such as:
Multi-point locks: A secure locking system that secures the door at several different points

Hinge bolts: A bolt system that automatically slides into the door frame when the door is closed

160 door viewer: A small peephole so you can identify who is there without opening the door

Tamper-proof cylinder: Prevent your locks from being picked by installing this device
Should I install a Camera on my Front Door?
It's always a good idea to install as much security as possible in your front door area. A camera will deter intruders from trying their luck in the first place, and anyone who does try to break in will be caught on film.
A door camera can help with other problems too. If someone calls at your home and seems suspicious, then you will already have them on camera. A wide-reaching camera may also pick up vehicle license plates, so if you are unable to identify the person on camera, then you may be able to identify their vehicle.
Another problem that has become commonplace recently is parcels being stolen from outside people's front doors. A front door camera will definitely help prevent it from happening to you.
Can a Front Door Improve Energy Efficiency?
Old front doors can be drafty and cold. Getting a new main door installation is going to stop the pesky cold air from entering your home and provide a tight seal between the interior and the elements. An efficient front door will also prevent excessive heat from getting in too.
Having well-fitted and functioning entry points on a home will always help improve its energy efficiency.  San Diego doesn't have the extreme weather that some other climates do, but you'll still want a front door that is energy efficient and isn't the weak link in your building envelope.
What Makes a Front Door Energy-Efficient?
The material matters when it comes to energy efficiency. Most types of front doors have good energy efficiency, with fiberglass being the best of the best. The worst performer, however, is wood. Therefore, if energy efficiency is important to you, don't choose wood for your exterior door installation project.
Also, consider the amount of glass you want on your door. The more you have, the less efficient it will be unless you ensure you choose glass that's certified energy efficient.
What are the Different Types of Entry Doors?
A home can have many different entry points:
All homes and apartments will have a front door/main entry point

Back doors are common in homes with yards

If you have a basement, there may be a door to enter that area

Patios, balconies, conservatories, and verandas typically have glass doors. The most common are the sliding type.

Other properties may have a side door entering an area like the kitchen or pantry.
What is the Strongest Type of Front Door?
If the strength of a door matters to you the most, then you need to choose the strongest type of material. In this case, your best option is steel.
There's a reason why all prison doors are made from steel! Steel is very hard to break or damage. It won't warp or change shape over time and will really only deteriorate if it is left to rust. The door may become dented from physical impact, but it is unlikely to be damaged as a result.
Wood and fiberglass are also good strong options for a front door, but they're not as good as steel.
How Often Do I Need to Replace the Glass of a Front Door?
The glass in your front door only needs to be replaced if it is damaged. Cracked or broken glass poses a security risk and also lets cold air into the home, reducing energy efficiency.
Glass panes that leak water will cause damage to the door frame, which reduces its lifespan.
It's a good idea to regularly check the glass in your front door to ensure that it is water-tight and not damaged. If it is, then you need to get it replaced as soon as possible before the problem gets worse.
What are Different Styles of a Front Door?
There are many different types and styles of the front door on the market. When choosing your new front door, be sure to keep in mind the style of your home. For example, selecting a modern front door won't look right if your home is old and has period features.
Also, think about your priorities for your front door. Whether it's security, curb appeal, energy efficiency, or something else, buy a door that achieves what you need based on your priorities.
The most popular types of the front door are:
Traditional

Contemporary

Sliding

Doors with glass or stained glass panels

Wooden doors with panels

Double doors

Glass doors with decorative ironwork
How Much Should a Front Door Installation Cost?
A typical door installation (not including the cost of the door itself) will cost between $508 – $1,688; however, that figure can rise significantly for custom projects and atypical-sized doors.
Do Installation Costs Differ by Material?
If we're just talking about the cost of the installation itself, then no, it doesn't matter what material your door is made from; the installation costs will be the same.
How to Know if I Should Repair my Door or Buy a New One?
Doors that have become misshapen or significantly damaged should be replaced. Doors that no longer close or lock efficiently should also be replaced.
If your door is simply suffering from minor cosmetic damage or requires a new pane of glass, then these can be repaired without replacing the whole unit.
Can I Replace my Front Door Without Replacing the Frame?
Absolutely. If your door needs replacing but the frame is still in good condition, you can buy what's called a "slab" door. This is simply a door without a frame. If you do this, ensure you buy a door that matches exactly the size frame you have. A door that's too small or too big won't work for obvious reasons.
How to Know if I Need a Prehung Door?
A prehung door is one that comes complete with its matching frame. Therefore, you will need a prehung door if your frame is damaged. Additionally, if you cannot find a slab door that matches the style and size of your existing frame, it can be a good idea to swap it out entirely.
Can I Install a Front Door by Myself?
As with any DIY job, it depends on your skill level and the complexity of the task. Front doors are tricky as they require a lot of precision work to get a perfect fit. For the best results, it's always better to find a professional who installs front doors. That way, you know your new front door will be secure and last a lifetime.
How Long Does it Take to Fit my New Composite Door?
It will take a skilled professional around 5-6 hours to fit and install your new door. Count less time if there's no new frame required. Back door installation will require a similar time frame as it's also an exterior door that requires more security than an interior door.
New front door supply and install projects are carried out by many different companies, so make sure you choose one that has a proven reliability and trust record. That way you can be confident the job will be finished to a high-quality.
Having a new front door can make all the difference to you and your home. As well as making your home more attractive, you'll feel safe and secure whether you're in or out. Your door should last a lifetime if installed properly so you can enjoy your investment for many years to come.   We're in San Diego and we can help – contact us today!