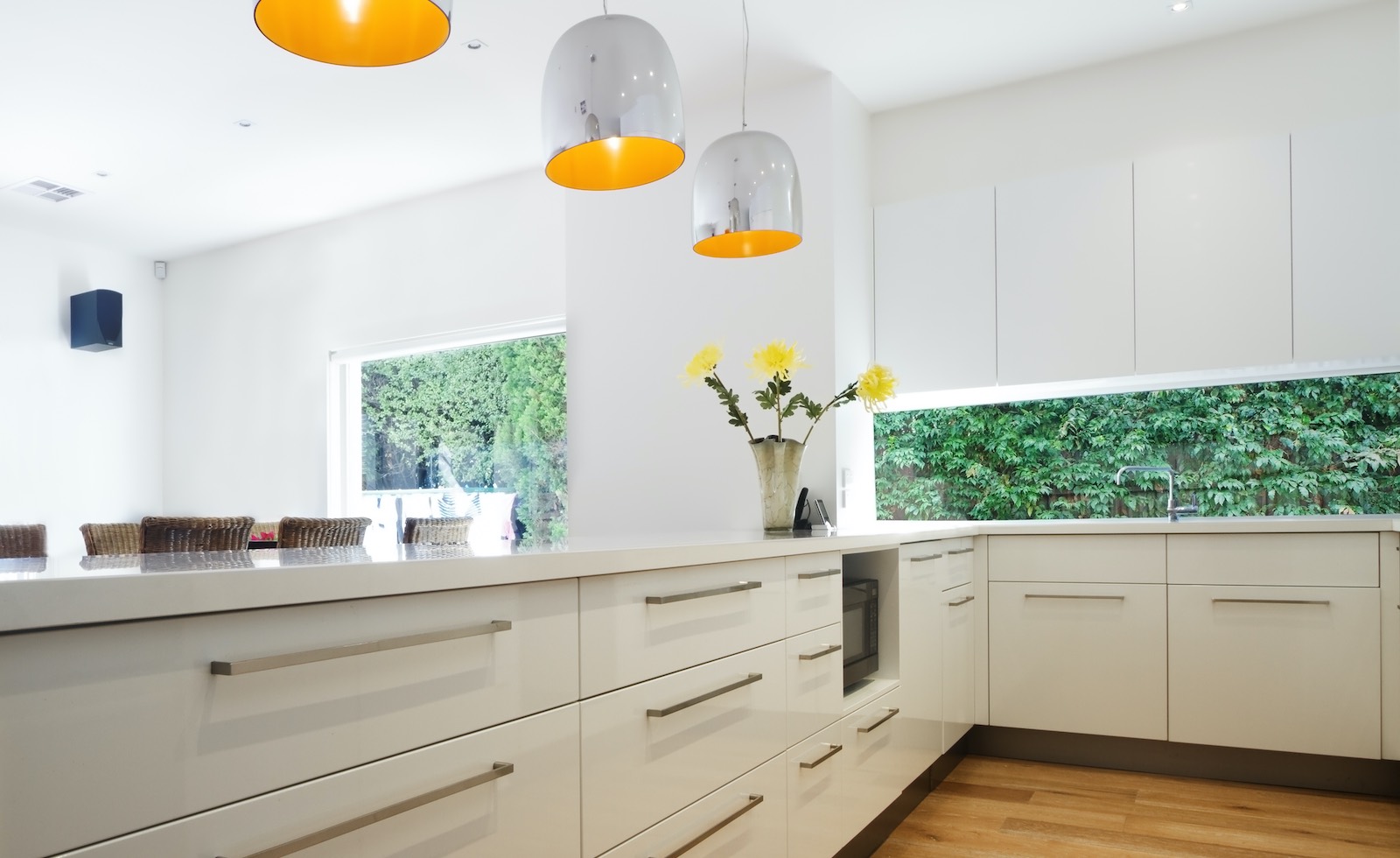 Kitchen cabinets are key in the overall aesthetic of the space. With almost limitless designs and colors available, they can showcase your taste and personality as well as serving a vital purpose.
You need storage in the kitchen, but you also want it to look good. Because kitchen cabinets receive daily use, wear and tear can make them look less than great. The good news is that you can give your entire kitchen a facelift without a full remodel.
For cabinets, you have two options – replace or reface. Read on to make the best choice for updating your kitchen.
The Difference Between Replacing and Refacing
Depending on how beat up your cabinets are, you may only need to give them a facelift rather than replacing the entire thing. Refacing consists of replacing or repainting the door and drawer fronts only. Replacing, on the other hand, is for when your kitchen has really had its day.
Choose to reface your kitchen cabinets if:
The cupboard units are in good working condition

You only want to update the style or color of the kitchen

You have a limited budget
Choose kitchen cabinet replacement if:
The cupboard units are in poor condition or damaged

You want to change the cupboard layout

You are not limited by budget
Ways to Reface Your Kitchen Cabinets
If you've decided that refacing is the way to go, you have an extensive arsenal of products and materials to pick from. Whether you choose to replace the fronts, paint, or resurface them, your dream kitchen is easily within reach and budget.
Painting the Existing Cabinet and Draw Fronts
It wasn't so long ago that it was only possible to paint wooden cabinets. However, now you can paint plastic, veneer, vinyl, and pretty much any other type of material as long as you get the right paint. This means you can even update the cheapest type of cabinet door and make them look classy and expensive.
Painting is the most budget-friendly option. It's the ideal solution if you are happy with the design of the doors. Replacing the knobs and handles can also transform the style in a very cost-effective way.
Replacing the Cabinet and Drawer Fronts
Sometimes there's no rescuing something. If your door fronts have received extensive damage, replacing them may be the only way to go. If you no longer like the style of the door fronts, replacing them is a great way to completely update the look of your kitchen.
Finding the right cabinet doors and drawer sizes may not be as difficult as you think. Many manufacturers have recognized that replacing doors is a popular way for people to update their homes. You can find a myriad of front panels that precisely fit popular brands like IKEA, Home Depot, and more.
Panelling Existing Cabinet and Drawer Fronts
This is a great option if your door fronts are beat up and scratched but still function well. Paneling involves fixing a thin sheet of another material on top of the existing door. Less expensive than replacing the cabinet fronts, you can update the style as well as the color, giving you a 100% new look.
Popular panels for cabinets include wood veneer, aluminum, stainless steel, and PVC.
When it's Time to Replace your Kitchen Cabinets
Sometimes replacing your cabinets is the only solution. If they're damaged beyond repair, then you'll need to get rid of the entire unit and update the kitchen with new cabinets. It's important to understand that this doesn't necessarily mean you have to commit to an entire remodel.
If you are happy with the existing layout of your kitchen and you don't need to replace anything else, such as the worktop, sink, or electrical items, all you need to do is swap out the units.
Most big brands of kitchen cabinets are made of the same dimensions. This means you can choose new cabinets that fit the current size and shape of your kitchen.
If you already know the brand of your kitchen, it is easiest to pick the same brand again but perhaps choose a different style.
Replace AND Reface Kitchen Cabinetry
If you want to get super creative, there's nothing to stop you from replacing and refacing. It can be a great way to keep costs down when replacing your cabinets. For example, it can be prohibitively expensive to order a custom color from the manufacturer. However, you can buy cheaper, plain white cabinet door and drawer fronts and paint them yourself.
You can also source attractive knobs and handles from separate suppliers, which can be a more cost-effective solution. The same goes for the innards of your cabinets. You can then customize lights and storage solutions as you like. You are not limited to what the cabinet manufacturer has to offer.
Reface vs Replace: Conclusion
Replacing or refacing can solve a kitchen problem without going the whole hog with a remodel. If you're unsure of what you need, however, empty out your cabinets and give them a thorough inspection. Check for damage and whether or not any problems can be easily fixed. This should tell you what you need to know.
Finally, assess your budget and find which options fit best within it. No matter what you decide, you can find a dizzying array of products and materials at every price point.
We would always recommend getting the best quality available within your budget. This will ensure your new kitchen looks its best for longer. Longevity is an important consideration when it comes to your kitchen.
Your imagination holds the key to the kitchen of your dreams. With so many designs and colors on offer, the hardest part could be picking out your new style.