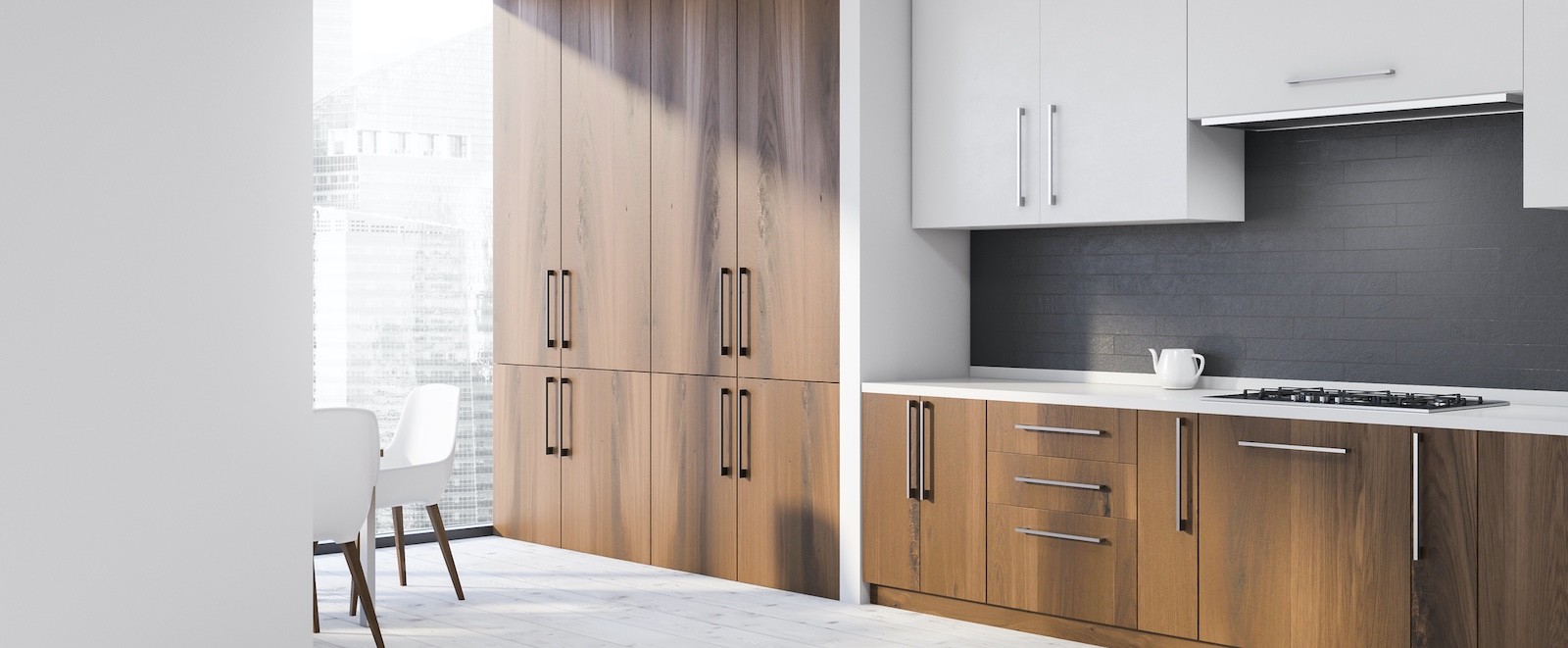 Kitchen Remodels in San Diego
The kitchen is often the heart of a house, not just a place to cook meals but also a place to gather and enjoy quality time. Your San Diego home can be that much more inviting and inspiring with a makeover! From a full kitchen renovation changing every aspect of an outdated room, to a budget remodel, there are many options to add function and style.
Kitchen Remodel Ideas
To get started with your remodeling, you first need some kitchen remodel ideas. As San Diego kitchen renovation pros, we are here to help! You can choose between various components like cabinets and floors, combining what best suits your budget and your space.
Types of Remodels
Cabinets
Complete kitchen cabinet remodeling is a great way to update any space while adding much-needed function. This is especially true of older kitchens, which typically do not have the cabinet features of modern spaces. However, if your cabinets are already in good shape but don't fit your style, you can reface them, paint, or add new hardware for an easy change.
Even adding crown molding to the top of your cabinets can add elegance to cabinets. Glass inserts to replace solid wood doors goes a long way, or use beadboard for a more rustic look. On the interior, consider installing sliding shelves, divided drawers, or lid storage. Under-cabinet lighting is practical and beautiful, adding light to often shadowy parts of the kitchen.
Counters
Kitchen counters take up a large amount of visual space, so remodeling this area can have a significant impact. Upgrade with ceramic tile, granite slabs or tile, marble, slate, quartz, or even concrete. Glass is another option, with a sleek look and nature bacteria-resistance.
Stainless steel counters, inspired by commercial kitchens, are sanitary while giving an industrial feel. Wood provides a more natural, eco-friendly look, as does bamboo. Whatever material you choose, there is something for every budget and home aesthetic.
Floors
If you have outdated or impractical, aging flooring, budgeting for a floor replacement is a great idea! Today's flooring comes in many surfaces, colors and styles, and modern materials and sealers ensure that your new floors will last longer.
Wood is workable in kitchens these days, thanks to those improved sealers that keep moisture out of the floor. For a lower cost look try laminate. For a similar, natural, and warm vibe, cork works well when sealed properly. As a bonus, it's nice on your feet, too! Ceramic tile, linoleum, vinyl, and stone are classic options.
Budget
Smaller improvements like refacing cabinets, painting walls, updating hardware, or changing light fixtures are doable on a budget. These lower-cost renovations can do a lot to upgrade the look and functionality of your space. We're happy to help you find ways to make the most of your budget to achieve your kitchen renovation goals.
Galley Kitchen Ideas
Named for the kitchen on a boat, a galley kitchen's layout makes the most of a small space. Two sides of the kitchen face one another, and vertical space is critical in ensuring there's room for everything. If you have a galley kitchen, remodeling can improve its function even when you can't add more floor space.
With improved cabinet storage, better lighting, wall shelving, and colors that invite and reflect light, your galley kitchen will feel all-new.
What to avoid
Unclear budget
The first step in any kitchen remodel is to understand what you want to do, and how much you can spend. As with any renovation project, costs can add up quickly, which is fine if you know your limit and have used it wisely. Instead of going in without a plan, set a budget and work with the pros to make the most of it.
Unsure what you want
Of course, you need to know what you want from your kitchen, which is why looking at ideas and examples is key. Determine what is lacking from your kitchen, whether it's space, organization, modern features, or an aesthetic that matches the rest of your home. Then, looking at examples, note what you like and how it can be emulated in your own space.
Buying on debt
In many cases, it's better to save up or to figure out what you can do with funds you have, than to go into debt. Kitchens bring value to your home, so if you can figure out how to finance a major remodel it could be worth it. The key is to figure out what is achievable and realistic for your financial situation and stick with it.
The fun part
What design
Think about the rest of your home and how your kitchen style and design can fit in. If the kitchen is the first piece of a larger remodel, let it dictate how the rest of your home falls into place. However, if the kitchen is a later-stage renovation, make sure the proposed design suits the rest of your home and the way your family will use the space.
Best designs in San Diego
Working with a kitchen designer in San Diego is ideal. Bring your great ideas about how you want your kitchen to look and an experienced designer will help keep it functional. They have the creativity, technical knowledge, and product know-how to translate your dreams into a satisfying reality.
In sum
When should I remodel?
Before you remodel, make sure that you have the funds or financing to get what you want without cutting corners. Inexpensive cabinetry, for example, may necessitate another remodel down the line when the cheap material gives way. Be equally careful of investing in too-trendy choices that will soon seem dated, even if they use higher quality materials.
When you have the budget set, the idea planned out with a professional, and your priorities clearly mapped, you're ready to go!