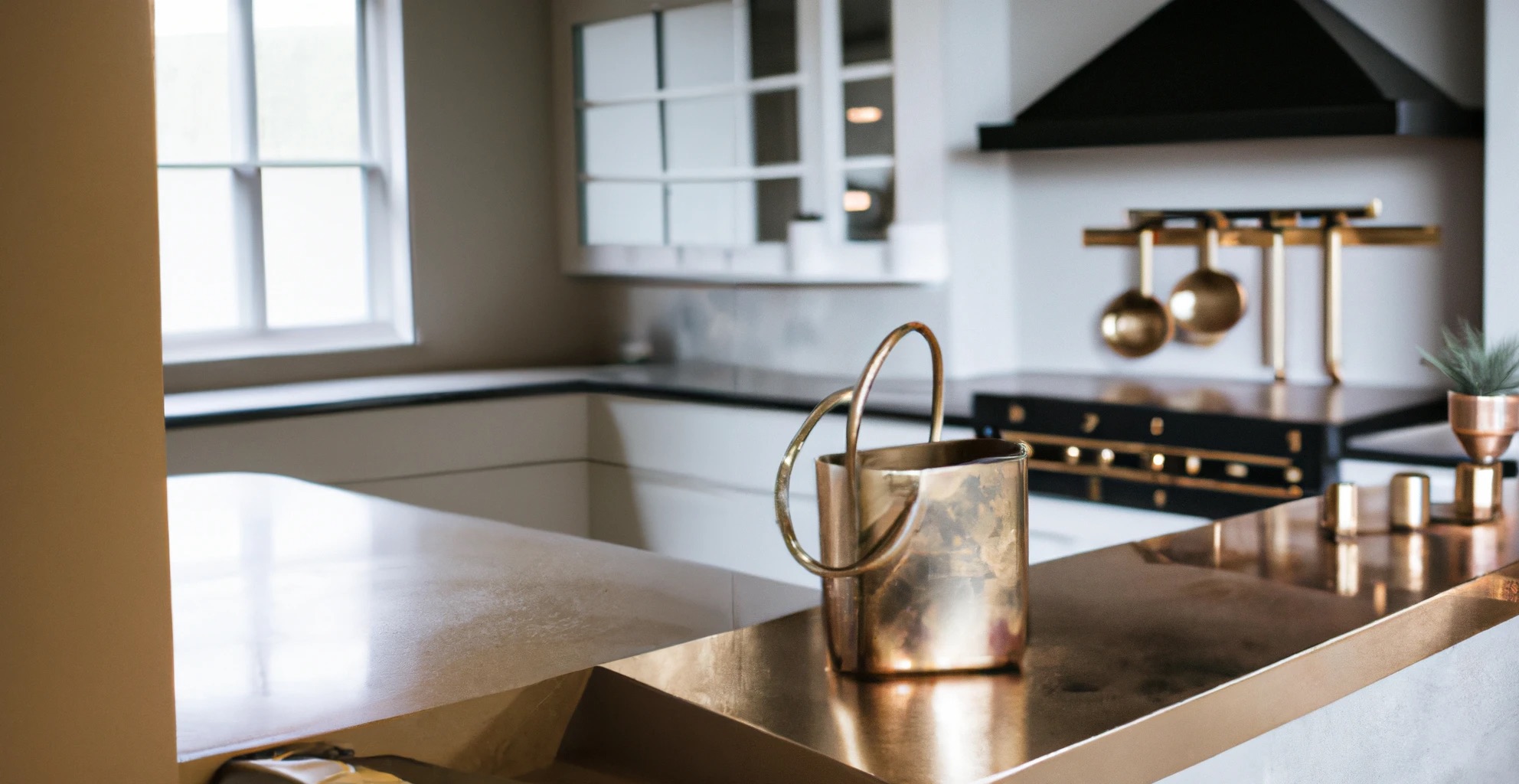 Without countertops, no kitchen would be complete, and they are an integral part of the overall aesthetic and style.
The best kitchen countertops for your needs depend on several factors, including cost, durability, and upkeep. It's also important to reconsider preconceived notions about the materials because some, like granite, have recently become more affordable. Even laminate now offers a cool and contemporary option – a far cry from the tacky designs of the 80s and 90s.
So, let's dig into the different kitchen countertop materials so you can make an informed decision for your remodeling project.
Granite
The most preferred countertop material among homeowners is polished granite, which is understandable. Granite is long-lasting thanks to its incredible durability.
Historically expensive, the prices are now more affordable due to technological advancements in the manufacturing process and an increase in the supply of natural stone.
Light and dark options are available, with "tan" being the most popular shade. You can also choose between entry-level, mid, and high grades of granite, which, of course, affect the overall cost quite significantly.
Pros
Reasonably affordable;
Low-maintenance;
Heat and water resistant;
Highly durable.
Cons
Cracking is possible if not installed correctly;
A professional installation is required;
Seams may be visible.
Wood
This traditional countertop material remains as popular as ever. Butcher block-style counters can be created from a variety of woods and finished in different ways.
Wooden countertops, if left unoiled and unsealed, can also function as built-in cutting boards increasing the practicality of the surface. Sealing the wood makes it water and stain resistant, and if you do damage it, all you need to do is sand it down.
Unlike other materials, wood is unique because scratches can actually add to the character and aesthetic of the design. And depending on the wood you choose, it can be a highly affordable option.
Pros
The best option for DIYers;
Easily sanded and resealed;
Durable;
Scratches can enhance the design.
Cons
Porous so therefore, can harbor bacteria;
Regular maintenance is necessary;
Wood can shrink or swell according to the humidity and temperature.
Laminate
Laminate has gained a bad rep and has greatly diminished in popularity from its peak a few decades ago. However, there are still significant advantages to these countertops.
The cheap price is the first and strongest argument for laminate countertops. Easy maintenance, a wide range of design options, and bacterial resistance are additional benefits.
While the material is not easily stained, the non-porous material can burn or chip if treated carelessly. Laminate is not the right choice for a high-end kitchen, but it is a good choice for consumers on a tight budget or those looking to improve rental properties.
Pros
Low-cost;
A good DIY option for installation;
Can look stylish in the right setting;
Nonporous and easily maintained.
Cons
It can be damaged by heat;
Non-repairable;
Won't add value to your home's value.
Quartz
Quartz could be a good option if style and durability are your top priorities. It is extremely difficult to scratch, stain, or harm this countertop material. To do so, you would have to make an effort.
Additionally, the material is non-porous; therefore, it won't harbor bacteria or viruses, making it an ideal surface for food preparation.
The price of quartz is generally higher than for other countertop materials. A common misunderstanding about quartz is that it is a wholly natural stone. The actual ingredients of this "engineered stone" are quartz that has been crushed and a resin filler.
Quartz countertops are frequently viewed as great alternatives to granite and marble because they offer a wider choice of colors and are more resilient.
Pros
Highly durable and doesn't crack or chip;
Almost maintenance-free;
Available in many colors and styles;
A highly hygienic option.
Cons
Extremely heavy;
Requires professional installation;
More expensive than other materials.
Marble
Marble is the upscale choice of countertop material. Available in white, grey, and even green, marble has long been coveted by bakers for its naturally cool surface.
On the other hand, this natural stone will consume a significant portion of your budget. In addition to being expensive, marble is aggravatingly easy to scratch and stain.
If your kitchen receives a lot of use, or you have kids or pets, this may not be a good option.
Pros
Water and heat resistant;
Perfect for bakers and chocolate makers;
Natural stone, so every piece is unique;
Increases the value of a property.
Cons
Requires regular maintenance and upkeep;
Chips and stains easily;
Professional installation is necessary;
Very expensive.
Concrete
Poured concrete countertops have become a popular option for achieving an industrial aesthetic. It's come a long way from a boring gray material and can now be easily tinted and given decorative textures. Installers can even add pieces of glass or tile to achieve a unique look.
While concrete is durable, it's also prone to cracking, particularly if it has been improperly installed. And while concrete is cheap, custom finishes and tints will significantly increase the cost.
Pros
Scratch and heat resistant;
Highly customizable;
Unique and contemporary material.
Cons
Can crack or chip;
Regular sealing is necessary;
Takes a long time to dry and cure.
Tile
Tile offers the most choices if you want vibrant colors and a distinctive design. With tile kitchen countertops, the possibilities are endless, from intricate hand-painted tiles to porcelain tiles that are mass-produced.
Just keep in mind that tile countertops' overall cost varies depending on the style and quality.
Self-installation is feasible with basic knowledge, which further brings down the cost.
The durability and ease of maintenance of tile countertops are commendable, but they are prone to cracking if hit with force.
Pros
Easy to DIY;
Affordable option;
Endless choice of style and color;
Stain and heat resistant.
Cons
Uneven surface due to grout lines;
Can crack easily;
Grout lines can be tricky to clean thoroughly.
Conclusion
So there we have it. Seven great options to consider for your kitchen countertops, each with its own pros and cons.
Which one will you choose for your project?